Marbach
Submitted by cybe on September 29, 2005 - 11:22
Ether is unique real existing matter. All ether of universe is in steady swinging Universal Ethermovement at quant-small spiralic tracks. This omnipresent basic swinging motion functions ordering (analogue to points of view of Global Scaling).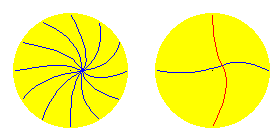 Local limited swinging motions occur at more coarse tracks, which in principle show pattern of ´Potential-Vortex-Cloud´, e.g. in shape of galaxies, sun-systems or like electrons work (by quite new shape of vortices). Depending on character of this local motions, diverse (coarse-matter) occurrences result, e.g. physical ´fields´ or radiation.
Ether is real continuum, thus gapless and undividable (unique properties, because also this substance is unique matter, nowhere else described like here). Only based at these facts, highly limited possibilities of motions result, which only are reasons for compelling nature laws, e.g. right-angled effects of electromagnetic appearances.
There are also ´fine-matter´ Potential-Vortex-Clouds, which represent mental-spiritual content. These are also really manifest like physical occurrences, both by movements of real matter of ether. These vortices of ´high vibrations´ can multiply overlay and affect morphogenetic (analogue Sheldrake).
This view of ether allows to explain many phenomena based at real motion´s processes (instead of common pure abstract hypotheses). This ether is medium for materia like spirit, both are appearances of vortex-structures only of different ´frequencies´.
So quite real and absolutely direct ´everything is bound to anything´. New ethic (of age-old values) results inevitably by this world-view. That´s content of Ether-Physics- and -Philosophy described at this website (which is permanently updated).
In addition here are discussed further subjects, e.g. concerning fluid-technology, mechanical rotor-systems, Bessler-Wheel, crop-circles, remote viewing, perpetuum mobile and basic understanding for usage of Free Energies. For example, most interesting concept is this Electrostatic-Electricitygenerator.
All subjects are to find via following main-menu or via sitemap. Available are also download-files (.zip or .pdf-files) for offline study of comprehensive workouts (also CD is available).
Hope you enjoy exiting content of this website!